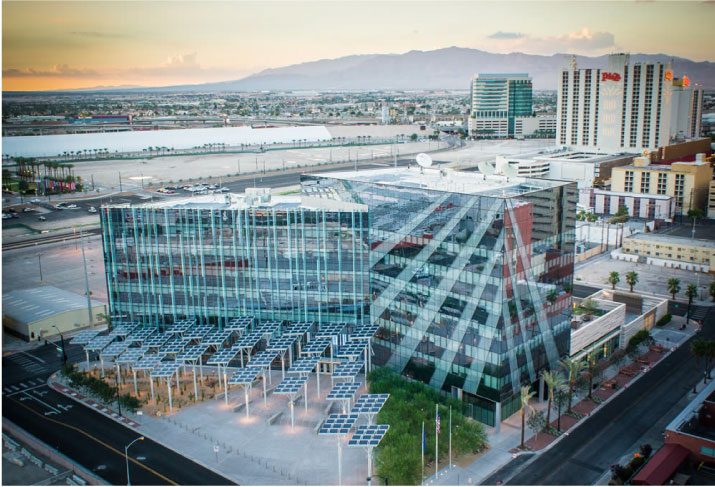 Program Overview
Welcome to the Las Vegas Commercial Property Assessed Clean Energy (C-PACE) website. C-PACE is an innovative tool that helps commercial properties finance energy efficiency and renewable energy projects. Whether you're a property owner, developer, contractor, mortgage holder, or capital provider—or you simply want to learn more about this program—this website provides you with the information you need to take advantage of this program.
What is Las Vegas C-PACE?
C-PACE is designed to help qualifying commercial, industrial, and multifamily (with five or more units) property owners access long-term financing for the installation of qualifying energy-efficiency improvements and renewable energy projects.
C-PACE financing is provided by private capital providers in an open market. The financing is secured through a voluntary benefit assessment lien that is levied against the owner's property. The financing term is based on the useful life of the improvements and can extend up to 25 years. The financing itself can cover up to 100 percent of a building's project cost and often requires no money down.
C-PACE projects for existing buildings must be designed such that the estimated energy cost savings, over the effective useful life of the qualified energy-efficiency improvements and/or renewable energy improvements, exceeds the financing amount, i.e. the savings-to-investment ratio (SIR) be greater than one. Such projects create positive cash flow for the property owner.
C-PACE is also available to commercial real estate developers who design and construct new buildings. C-PACE financing has proven to be attractive to developers who use it to reduce their project's weighted average cost of capital or fill gaps in their financing plan.
Who Benefits?
C-PACE benefits a broad range of stakeholders that utilize C-PACE financing:
Property owners reduce their energy costs and may improve the value of their building—all with no upfront, out-of-pocket costs.
Contractors close more projects and grow their business.
Developers fill gaps in their financing plan.
Capital providers receive new secure financing opportunities.
Mortgage holders benefit from an improved asset. In addition, the increased cash flow of a typical project may strengthen the owner's repayment ability and reduce mortgage default risk.
The City enjoys new investment, and citizens may enjoy more job opportunities, greater energy savings, and improved air quality—all financed with private capital, and not taxpayer dollars.
Who Administers the Program?
Sustainable Real Estate Solutions, Inc. (SRS), an industry leader in C-PACE program administration services nationwide, has been selected by the City to administer the program. SRS is responsible for program management and quality assurance, including prospective participants' (contractors, developers, capital providers) application processing, property owner project application processing and support services to all C-PACE stakeholders.
What is the Program Administration Fee?
The C-PACE program is designed to be self-sustaining through program fees charged to participating property owners.
For projects that are financed, a program administration fee, intended to cover the program's startup and ongoing operating costs, will be charged to each project:
One-time Fee: A one-time program administration fee equal to 2.75 percent of the project finance amount, not to exceed $75,000 per project, is applied to each financed project. Such fee, typically included in the total financed amount and due only if a project is successfully financed, shall be remitted by the capital provider to the program administrator within 10 days of the finance closing.
Project financing interest rates and any applicable capital provider closing fees will be set by the property owner's capital provider.
Back to Top